The NBA bubble games have lived up to the hype.
Every team in the bubble is playing hard, and the level of basketball has mimicked the first week of the regular season as many players have fresh legs and a rejuvenated hunger to compete among the world's best.
With the final seeding games approaching, and the official NBA all-bubble team announcement this upcoming Saturday, I decided to put a team together consisting of some of the most impressive players in the NBA restart.
Without further ado, here is the District of Buckets All-NBA Bubble Team.
PG: Damian Lillard
Before basketball stopped, Dame was on one of the hottest stretches of scoring we've ever seen from a guard, and his return to basketball has continued his run of high-powered scoring.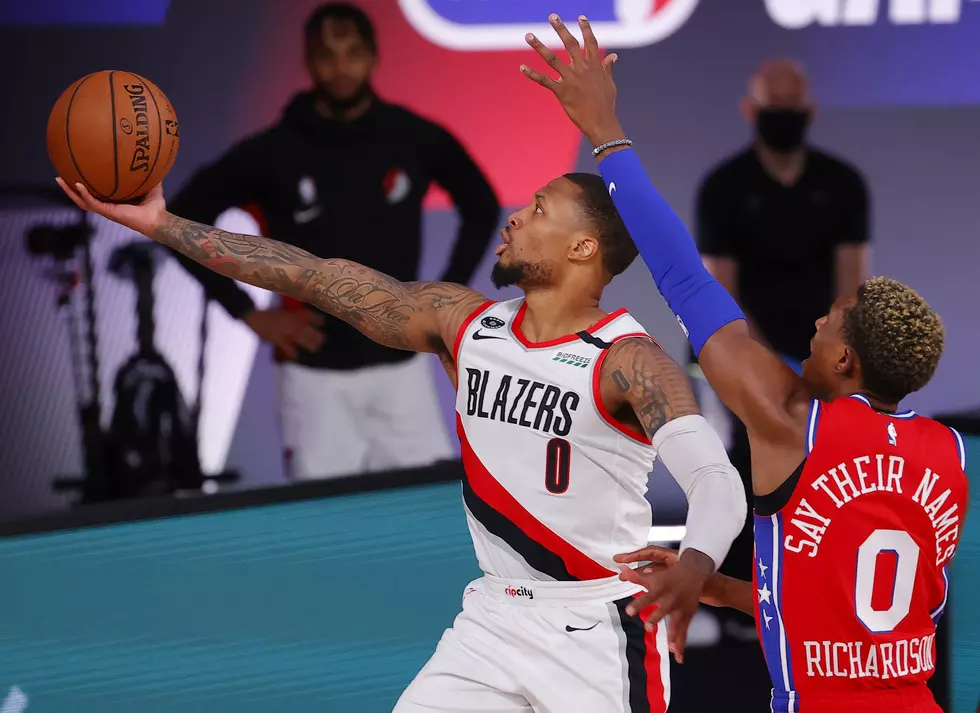 In the last two games, Lillard went off for a combined 112 points against the Mavs and Sixers, and his level of play has Portland sitting in the 8th playoff spot in the western conference.
Lillard told the media that he "Packed for the whole three months" and backed that statement up with his play — The Blazers can clinch their spot as the team to beat in the play-in game with a win in their next matchup.
Per game stats: 37.0 points, 4.4 rebounds, 9.3 assists
Shooting %: 48% field goal, 41.4% 3pt, 88.7% ft
Record: 5-2
+/- : 2.7
Fun Fact: Ever since Patrick Beverly clowned Dame for missing two go-ahead free throws, Lillard has shot 33-of-34 from the line. Dame is also the only Blazer with back-to-back 50-point games.
SG: Devin Booker
Devin Booker's scoring is no surprise, but the 7-0 bubble winning streak for the Phoenix Suns is one of the biggest surprises in the NBA.
Booker earns his spot here in my lineup over both Harden and Luka Dončić for the one reason he's often snubbed out of critical acclaim for his scoring abilities in the past — winning — yes, winning. The Suns 7-0 record in the bubble validates that his scoring ability translates to wins in a "win or go home" environment, and places him ahead of two guards that are performing at a similar level.
The Suns are tied with the Blazers and Grizzlies and need to win their next game to clinch a berth in the play-in series.
Per game stats: 31.0 points, 4.6 rebounds, 6.1 assists
Shooting %: 49.7% field goal, 34.9% 3pt, 93.5% ft
Record: 7-0
+/- : 8.0
Fun Fact: Devin Booker has scored exactly 35 points in three straight games.
SF: T.J. Warren
T.J. Warren was averaging 19.8 points per game heading into the bubble, but nobody expected him to put on an offensive clinic in Orlando.
T.J. Warren has always been a good scorer, but his willingness to fire more from deep, and his ability to hit at a high clip has taken his game from solid to show-stopping.
After Domantas Sabonis' injury early in the restart, Warren has established his place in the lineup even further and is a driving force for any continuing success Indiana might find in the bubble.
Based on his play for the Pacers, it is safe to say they got a monster return in a trade that only saw them give up cash considerations.
Per game stats: 31.0 points, 6.3 rebounds, 2.0 assists
Shooting %: 57.8% field goal, 52.4% 3pt, 88.9% ft
Record: 4-2
+/- : 11.7
Fun Fact: On August 1st, Warren put up 53 points on 69 percent shooting — Nice— against the 76ers.
PF: Kristaps Porzingis
I'm gonna be upfront and say that Kristaps' place on this team is purely about putting the ball in the bucket. Porizngis is the only player on this list who holds a negative plus-minus and a sub .500 bubble record. However, he has been individually impressive and is the bubble player that I would want at the 4 in a lineup.
Porzingis scores at a high rate and his production will be desperately needed when the Mavs take on Clippers in the first round of the playoffs.
Per game stats: 30.5 points, 9.5 rebounds, 2.2 assists
Shooting %: 47.6% field goal, 38.1% 3pt, 89.1% ft
Record: 2-4
+/- : -4.7
Fun Fact: On July 31st, Kristaps had 39 points and 16 Rebounds against the Houston Rockets.
C: Joel Embiid
Joel Embiid has been playing great ball for the Sixers in the bubble. Embiid looks to be the main driving force for Philly in the playoffs, as they will be without Ben Simmons for the foreseeable future. Despite injuring his ankle and missing a game, Embiid's play thus far has been enough for him to secure the center spot in my All-Bubble Team lineup.
Per game stats: 24.4 points, 11.6 rebounds, 2.8 assists
Shooting %: 51.2 field goal, 76% ft
Record: 3-2 in games played
+/- : 3.6
Fun Fact: In the Sixers' loss to the Pacers in the bubble, Embiid put up 41 points and 21 rebounds.